Posted by Mac Me an Offer Tech Team on Jan 6th 2023
Any laptop, even those from Apple, has a certain life span before you need or desire something new and different. Your laptop may not perform like it used to, or you may be running out of memory and need more storage space. You've likely started to consider your next purchase, but what should you do with the existing laptop?
Some people carry an extra laptop around or have one in their home as a backup in case something happens to their primary one. For others, any old model will just take up space until they finally get around to tossing it. Instead of doing that with your old MacBook, explore a trade-in option and see if you can get some value back for it.
How to Trade in Your MacBook With Mac Me an Offer
We don't do direct trades at Mac Me an Offer, but you can choose from multiple payment forms when selling your device to us — check, Zelle and store credit through our partner company, Mac of All Trades.
In many cases, this is a better option than a direct trade-in. You can use your payment however and wherever you please, whether upgrading your device or otherwise. Plus, you can avoid the hassle and risk of selling your MacBook yourself. If you traded your device to Apple, you'd generally receive a lower amount of credit toward a new purchase.
If you have a MacBook Air or MacBook Pro to trade in, explore the steps for selling your device to Mac Me an Offer!
MacBook Air Trade-in
To get one of the best offers for your MacBook Air, consider selling your device to Mac Me an Offer. We purchase 2013 and newer MacBook Air models, including:
MacBook Air 11-inch Core i5
MacBook Air 11-inch Core i7
MacBook Air 13-inch Core i3
MacBook Air 13-inch Core i5
MacBook Air 13-inch Core i7
MacBook Air 13-inch M1
It's quick and easy to get a quote for your Apple products through our estimator tool. Simply choose the MacBook Air option on our homepage, then select your laptop's model and series from the dropdown menu. After entering your email address as a guest, creating an account or logging in, you'll answer a few questions about your MacBook Air's condition, like:
What is the condition of your product (fair, good or excellent)?
Will you include all original accessories?
Does your device have any major upgrades?
Does your device have a fully functional battery?
Does your device have any noticeable functionality or cosmetic defects (like cracks, dents or failing hardware)?
After you answer these questions and submit your quote form, we'll provide a cash value estimate right away. If you choose to sell us your device, we'll give you packing instructions and a free, prepaid shipping label so you can mail us your MacBook Air.
Once we receive it, we'll perform a hardware test and visual inspection. We'll then issue your payment in your chosen method within two business days.
MacBook Pro Trade-in
If you're seeking a laptop upgrade or looking to earn some extra cash, sell your old MacBook Pro to Mac Me an Offer! We purchase the following MacBook Pro series:
MacBook Pro 14-inch
MacBook Pro 16-inch
MacBook Pro Retina 13-inch (from late 2013 and beyond)
MacBook Pro Retina 15-inch (from late 2013 and beyond)
After selecting the MacBook Pro option on our homepage, you'll follow the same process above to receive an offer for your device:
Answer the questions on our quote submission form to get an instant offer.
Mail us your MacBook Pro with the free shipping label and packing instructions.
Choose your payment option to put toward the next device you plan to purchase.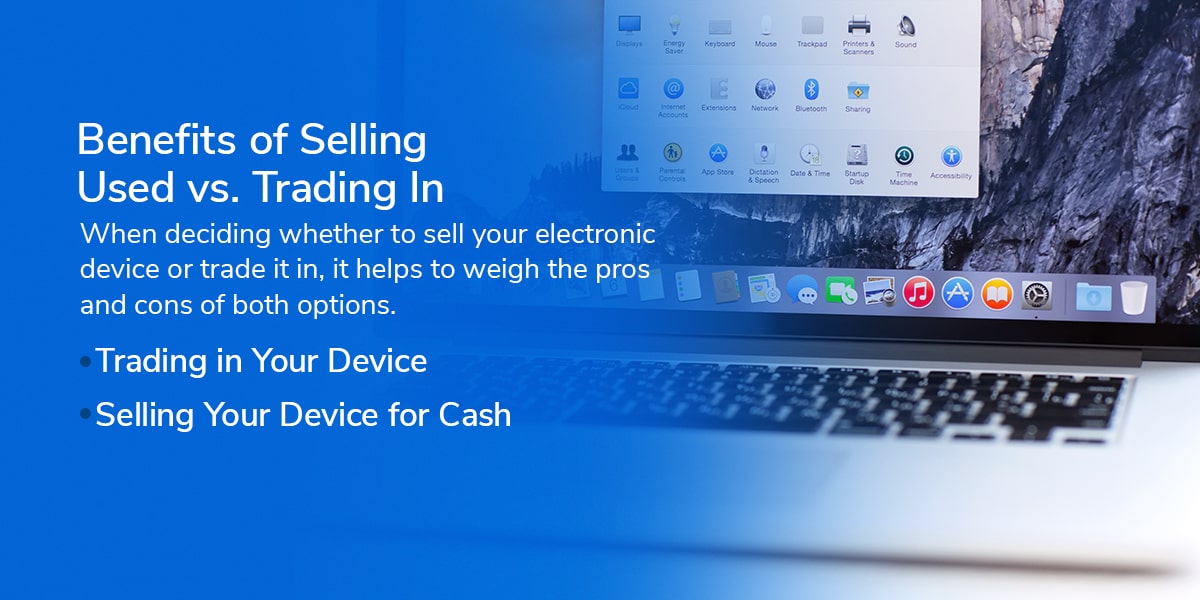 Benefits of Selling Used vs. Trading In
When deciding whether to sell your electronic device or trade it in, it helps to weigh the pros and cons of both options.
Trading in Your Device
If your old MacBook is functional and in good shape, you can easily trade it back to the manufacturer for credit toward a newer device. While simple and convenient, trading in your device doesn't get you cash in hand. And in many cases, you'll receive a lower amount of credit than you would when selling your laptop.
Selling Your Device for Cash
When selling your old MacBook, you can usually earn more money than you would with a trade-in. When you sell through a reliable third party like Mac Me an Offer, you don't have to deal with the hassle of selling your own device and finding prospective buyers. Just fill out our form, mail us your device and let us take care of the rest!
Get the Most From Your MacBook Trade-in
Before going through with the selling process, here are three small fixes and adjustments you can make to get the most from your MacBook trade-in.
1. Replace Missing Keys
If you see one or two keys missing from your MacBook's keyboard, replace them yourself before selling or trading it in. You can easily get the parts needed to make the replacement, ensuring a fully intact and functional keyboard that will certainly raise your laptop's value.
2. Don't Remove the Hard Drive
To keep someone else from accessing your personal files, you may think you need to remove the hard drive. While you should delete your personal files, you should ensure the operating system (OS) is properly restored so the company you sell it to can inspect your device.
If you remove the hard drive, the value will drop substantially. You'll get more value in the long run if you leave it alone and have an expert team run the proper testing. They'll remove everything to make it like new for resale once you've completed the trade.
3. Remove Stickers
If you have any stickers on your laptop, remove them before your trade-in. The company that receives the device may not want to remove the stickers, which could bring the value down.
By removing the stickers, you could get more in return for keeping your laptop in good shape. When it's time for you to sell your MacBook, turn to Mac Me an Offer and see what you'll get for your used device.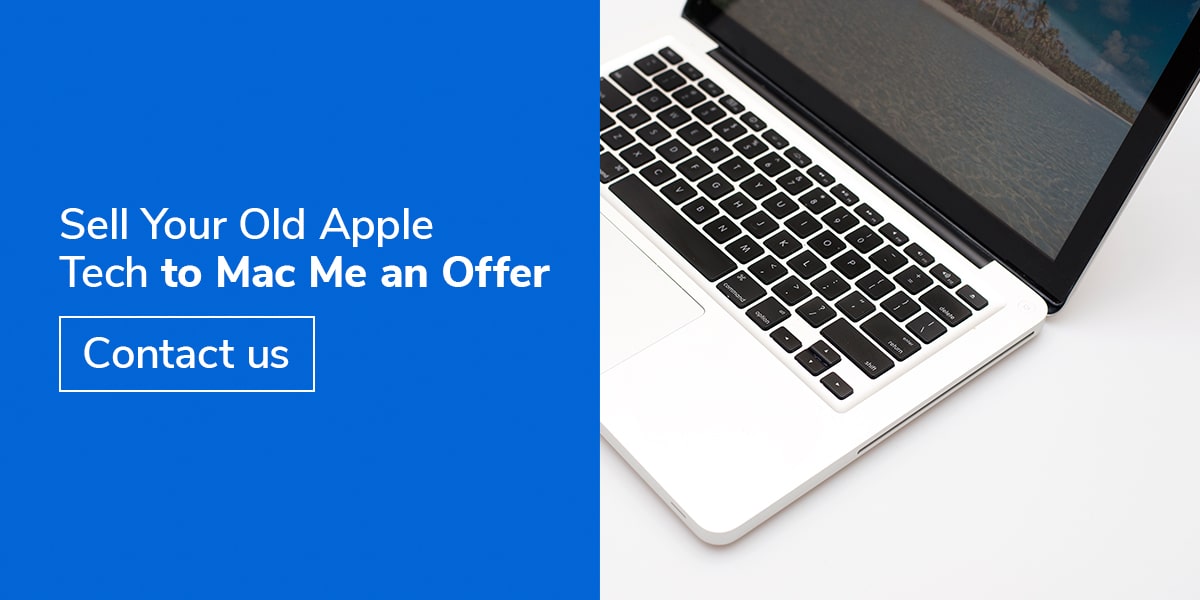 Sell Your Old Apple Tech to Mac Me an Offer
If you're looking to get a high MacBook trade-in value, selling your old device to Mac Me an Offer is an excellent solution. With competitive offers, multiple payment options and incredible upgrade opportunities, we're your top source for selling your Apple products.
Whether you're looking to upgrade your current MacBook Air or MacBook Pro or you simply want to earn some pocket cash, let us help you give your laptop a new life. Sell your MacBook to Mac Me an Offer today! Contact us with any questions about our process.