Posted by Mac Me an Offer Tech Team on Jul 25th 2023
Thanks to premium hardware and high-quality designs, Apple products are known for doing well on the resale market. Like every type of technology, certain factors can bump up that price even more. Some are pretty clear, like opting for a Pro over a standard iPhone, but others are harder to predict, like choosing one color over another. If you're considering selling an Apple device, these specs can help you understand what makes certain Apple products worth more.
Let's go through some of the specs that impact your device's value.
Additional Storage
When you buy a phone, laptop or tablet, you've probably noticed that more storage space increases the device's price. The same rule applies when selling it. Generally speaking, more storage does increase the value of an iPhone, MacBook or iPad. Since Apple doesn't often let you expand storage, more built-in storage is more important for Apple products than it is for some other brands.
Current iPhone models range from 128 gigabytes (GB) to 1 terabyte (TB), but some earlier models start at 64GB. iPads and iPad Airs currently come in 64GB and 256GB options, while iPad Pros range from 128GB to 2TB. Most Macs start at either 256GB or 512GB of storage, but some can go up to 8TB.
To see if your storage makes your iPad or iPhone worth more, head to the Settings app and tap General. Then, tap iPhone Storage or iPad Storage, depending on your device. On a Mac running macOS Ventura, click on the Apple menu in the furthest top-left corner of your screen. Click System Settings from the dropdown menu. In the sidebar, click General, then Storage. For earlier versions of macOS, click on the Apple menu, then About This Mac, then Storage.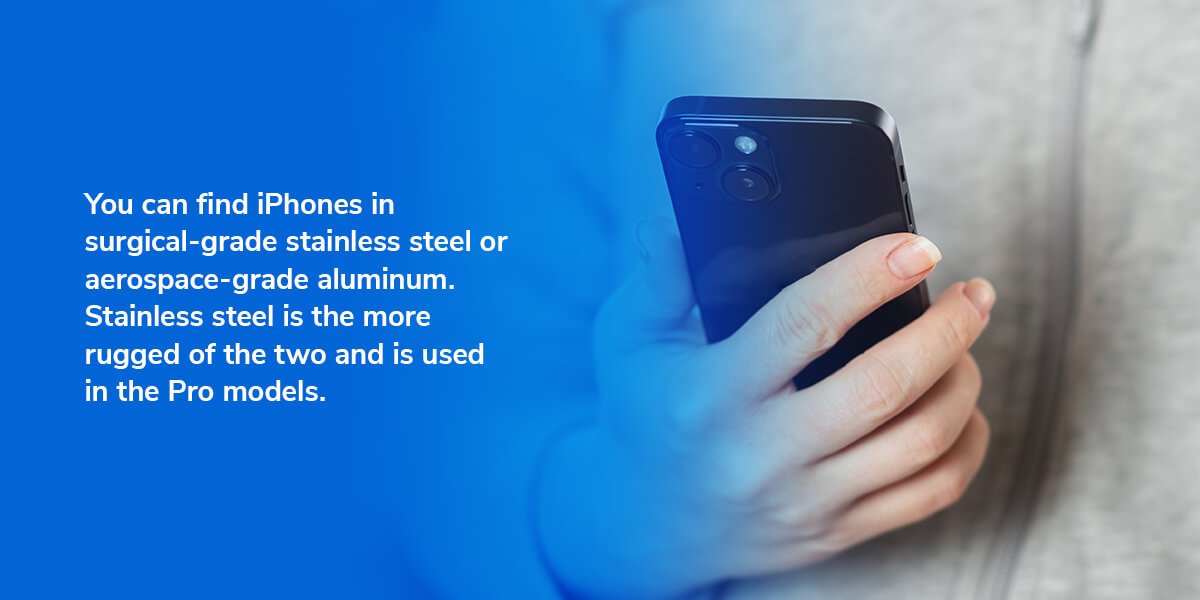 Materials
This spec generally only applies to iPhones and Apple Watches, which come in materials like aluminum, stainless steel or titanium. Macs and iPads all have aluminum builds.
You can find iPhones in surgical-grade stainless steel or aerospace-grade aluminum. Stainless steel is the more rugged of the two and is used in the Pro models. Aluminum isn't as strong and is only used in the standard models, so it's generally worth less than an iPhone made with stainless steel.
When it comes to Apple Watches, your options are more varied. A standard watch, like the Series 8, comes in aluminum or stainless steel, with the stainless steel again offering a more premium build. The SE only comes in aluminum, while the Ultra has a more protective titanium case. It is strong while being lightweight and corrosion-resistant.
The equation can be a bit more complicated here since prices vary depending on other specifications. Generally, a titanium watch is worth more than a stainless steel watch, which is worth more than an aluminum one. Stronger materials can indirectly support a higher resale value by helping you avoid dents and scratches, too.
Special Editions and Colors
Apple may not be known for wild colors or limited-edition products, but every now and then, it releases something special. These products can be worth more by the sheer nature of their exclusivity. Some special edition products and colors include:
Chinese New Year AirPods Pro: In 2022, Apple released its second-generation AirPods Pro with a unique engraving. The Apple logo featured a rabbit's face in celebration of the Year of the Rabbit.
Apple Watch Hermès: In a partnership with the luxury brand Hermès, Apple released some watches with exclusive watch bands and faces.
Product(RED) products: Although they aren't very rare, (PRODUCT)RED is a special version of iPhones, iPads and AirPods. They come in bright red hues and contribute to charities, usually the (RED) organization's HIV/AIDS programs.
Some less-common colors can even boost your device's value, like the iPhone 11 Pro's Midnight Green or the iPhone XR's Coral or Blue shades. Since they're harder to find, someone might be willing to pay more for one.
Pro Editions
Naturally, the more expensive Pro editions of iPhones, iPads and MacBooks are worth more than their non-Pro counterparts. They typically feature a massive variety of premium features that contribute to the increased price. iPhone Pros, for instance, have nicer cameras and usually have improved displays, newer processors and higher storage capacities. MacBook Pros might have upgraded chips, more memory, higher storage capacities and more ports.
If you have a Pro edition Apple product, expect it to be worth more than a similar non-Pro device.
Screen Sizes
Across all Apple devices, larger screens increase value. For example, the iPhone Pro and Pro Max are virtually the same device except for the Pro Max's screen. It measures 6.7 inches compared to the Pro's 6.1-inch screen. When purchased new, the larger screen costs an extra $100. The larger screen size adds to the resale value, too.
Bigger screens offer more real estate on every device:
iPhones: Apple has used the same screen sizes for several iterations of the iPhone. Both the standard models and the Pro models come in 6.1-inch and 6.7-inch varieties. The iPhone SE is much smaller at 4.7 inches.
Apple Watches: The flagship Apple Watches come in small and large sizes, with the Series 8 at 41 millimeters (mm) and 45mm. The rugged Ultra is 49mm, and the budget-friendly SE is 40mm or 44mm. Again, screen size is one part of the equation, but larger sizes are usually worth more.
iPads: iPads come in many different sizes, including the 8.3-inch iPad mini, the 10.9-inch iPad and iPad Air and the 12.9-inch iPad Pro. Keep in mind that each of these comes from different lineups, so they're harder to compare, but a big-screened iPad is often worth more.
MacBooks and iMacs: MacBooks and iMacs also come in many sizes, such as the 13.3-inch MacBook Air to the 24-inch iMac. Specs can vary widely, but larger sizes typically increase value.
Screen sizes alone impact pricing, but larger screens often go with higher-caliber models, too, so you can expect to get more value from them due to the premium features.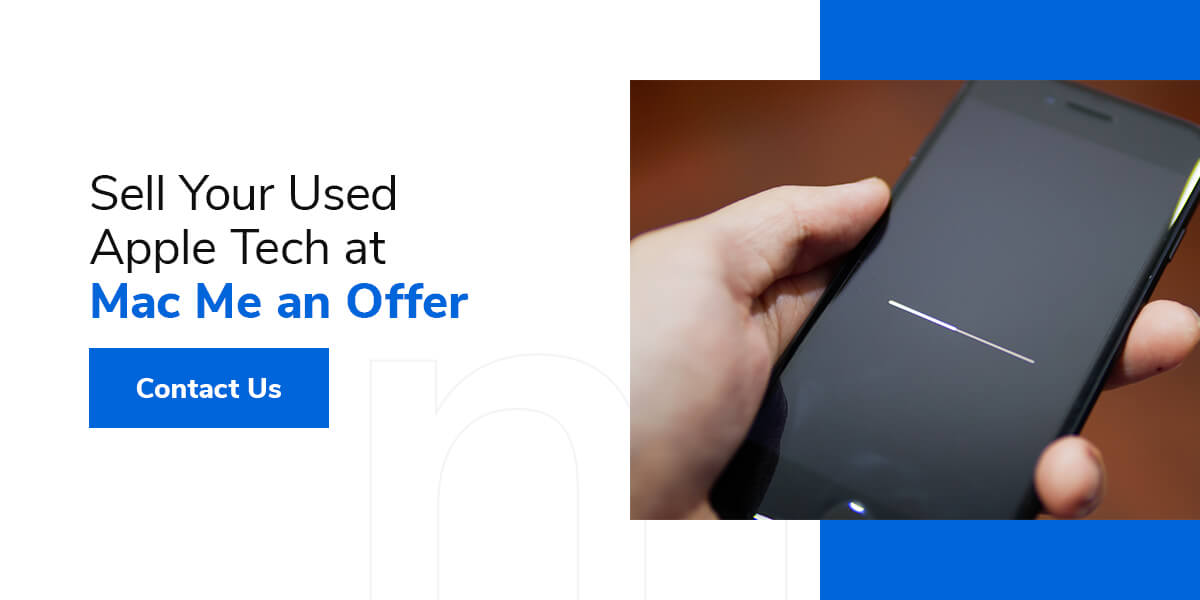 Sell Your Used Apple Tech at Mac Me an Offer
Pricing used electronics is always a complex balance of many factors, like the phone's condition and age, but much of the price comes from its specifications. At Mac of All Trades, we offer fair pricing for your Apple tech, complete with free shipping labels and easy payments via Zelle or check. Plus, we offer instant estimates online. Tell us a little about your device, and we'll let you know how much we can offer.
We take most Apple devices and have been helping people get more for their tech for over 25 years. Submit your device information today to get your instant estimate!