Posted by Mac Me an Offer Tech Team on Dec 9th 2022
Is your iPhone starting to slow down or become outdated? If so, it might be time to consider selling and upgrading your trusty device. When you trade in your iPhone with a reliable online seller like Mac Me an Offer, we'll clear the device completely to ensure there's no trace of personal information. Even so, below are some standard safety precautions you should take before selling any electronic device.
Back Up Your iPhone Before Resale
If you plan to upgrade your iPhone and want to resell your old device, we recommend backing it up first. This ensures you won't lose any treasured photos and videos, notes, documents or any other important data.
It'll also make setting up your new phone a breeze, as you can seamlessly restore everything from the backup. You can speed up this process by deleting unnecessary apps and data first, which will reduce backup time.
Ensure you have a stable internet connection, then follow these simple steps to safely back up your iPhone to iCloud:
Head to Settings and tap your name.
Click iCloud.
Choose iCloud Backup then select "Back Up Now."
After the device has completed the backup, you can confirm its success by selecting the iCloud menu in Settings, tapping "Manage Storage," then "Backups." You can remove out-of-date backups from this menu as well.
If you'd prefer to back up your data with an external system, you can use your computer. This process will vary slightly based on the computer and operating system. Follow these steps when backing up your iPhone to your MacBook or Windows PC:
Connect your iPhone to your computer with the appropriate cable. You may be asked to "Trust This Computer" and enter your device's passcode before connecting your Mac or PC. Click "Trust" on your computer.
Choose your device from the iTunes or Finder sidebar.
Tap the "Encrypt local backup" checkbox if you'd like to save health-related data from your phone or Apple Watch.
Select "Back Up Now."
Reset All Personal Data on the Device
Once you've backed up your device, you can reset your iPhone data. Follow these steps to do so:
Open Settings, then General, then select "Transfer or Reset iPhone."
Select "Erase All Content and Settings," then tap "Continue."
Enter your Apple ID password to disconnect the device from Find My iPhone and disable the Activation Lock.
Enter your iPhone's passcode when prompted. The phone should proceed to erase your data.
Other Helpful Tips and Steps
Now that you've learned how to back up and remove personal data from your iPhone, below are some additional steps that can help you out when you want to sell your device: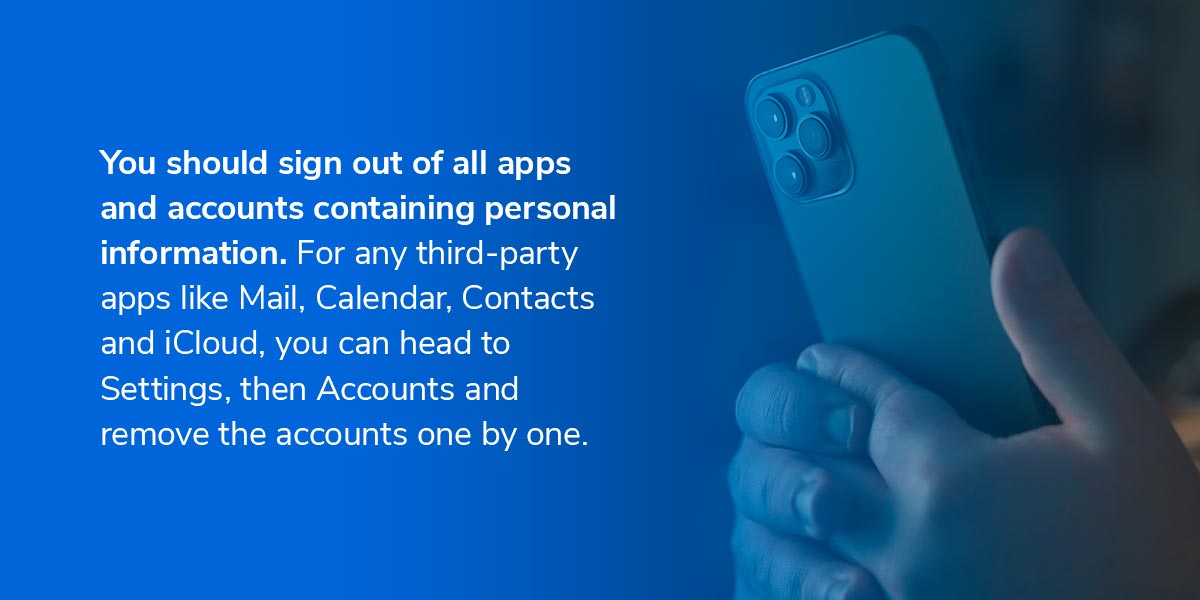 1. Log Out of All Accounts
You should sign out of all apps and accounts containing personal information. For any third-party apps like Mail, Calendar, Contacts and iCloud, you can head to Settings, then Accounts and remove the accounts one by one.
Make sure you're logged out of FaceTime and iMessage as well. Go to Settings, then select Messages and toggle off the switch for iMessage. Toggle the switch off for Facetime, too.
Ensure you're fully logged out of any remaining apps, like social media profiles and banking and financial apps. Check Safari or any other web browsers to confirm you're not logged into any accounts there.
2. Unpair Your Devices
Do you have any Bluetooth devices linked to your iPhone, such as a speaker, mouse, headphones or keyboard? If so, you'll want to unpair them. That way, there's no chance of them connecting to the phone when it's no longer in your possession.
To unpair a Bluetooth device, head to Settings, then Bluetooth. Toggle on Bluetooth to see all of your currently paired devices. Tap the info (i) icon next to each device, then click "Forget This Device."
If you have an Apple Watch synced to your phone, you can follow these steps to unpair it:
Hold the watch close to your phone and open the Apple Watch app.
Tap the "My Watch" tab and choose "All Watches."
Tap the (i) icon beside the watch you wish to unpair.
Select "Unpair Apple Watch."
Getting Ready to Sell Your iPhone
Lastly, here are some final measures you can take to prepare your iPhone for a new owner.
1. Remove Physical Identifiers
Remember to remove any external accessories — like your case and screen protector — from your iPhone. You should also remove your SIM card before selling your device. If your new phone comes with a SIM, you can destroy the old one. Use a paper clip or ejector tool to open the internal SIM card storage.
2. Clean Your iPhone
Aside from clearing any personal data from your device, it's also a good idea to physically wipe your iPhone clean — that way, it's more attractive and presentable for the new owner.
Before cleaning your phone, unplug any cables and turn off the device. Without getting any moisture in the openings, wipe the front and back of the device with a soft, lint-free and slightly damp cloth to remove any blemishes, smudges or fingerprints.
Be sure to avoid using any household or window cleaners, aerosol sprays, solvents, compressed air, ammonia or other abrasive cleaners on your iPhone. These devices have oleophobic — oil repellant — coatings that are easily scratched and diminished by cleaning products.
3. Remove Your iPhone From Your Trusted Devices List
After you've wiped your iPhone clean — in every sense of the word — it's a good idea to remove the device from your Trusted Devices list. This ensures the new owner can't access your iCloud account or other Apple services.
You can access your Apple ID account on any synced device, whether it's another iPhone, Macbook, iPad or web browser. Simply select your old iPhone on your devices list, then choose "Remove from account." This step prevents the device from accessing your iCloud account and other Apple services. If you need to regain access, you'll have to sign in using two-factor authentication.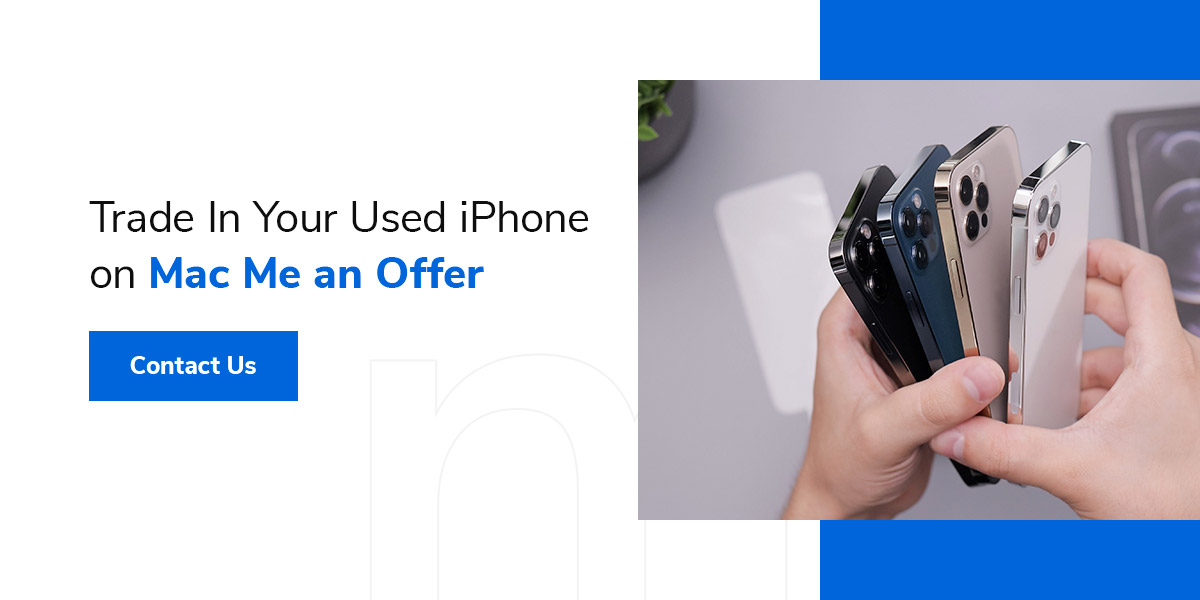 Trade In Your Used iPhone on Mac Me an Offer
Are you looking to sell and upgrade your iPhone? Look no further than Mac Me an Offer! Our seamless, hassle-free process makes it easier than ever to get an offer for your device on our website:
Select your Apple product on our homepage.
Answer the questions on our submission form to receive an instant offer.
Use the free, prepaid shipping label and packaging instructions to mail us your product if you choose to accept our offer.
Expect your payment within two business days of delivery if your device comes as described in your submission form. Payments are issued via Zelle or check.
With our competitive offers, outstanding customer service, upgrade opportunities and A+ accreditation rating with the Better Business Bureau, you can count on us when trading in your Apple device. Sell your iPhone on Mac Me an Offer today!