Posted by Admin on Mar 31st 2022
An iPhone trade in value is influenced by several factors. If you're thinking of selling your iPhone 12 so you can buy the new iPhone 13, or if you're wondering if your old Apple iPhone is still eligible for trade or how much is its worth, you've come to the right place.
Below are some of the most important factors all trade-in companies will consider in assessing the worth of your Apple device.
Factors Affecting Your iPhone's Value
Your phone's resale value will increase or decrease depending on its working condition, age, model, and other observable characteristics. For instance, scratches, cracks, and other physical signs of depreciation mark down the value of your phone.
Following are some of the things that affect your phone's value.
The age and model of your phone
The major contributor to value for many companies that accept iPhones for trade-in is the device's age and model. Every year, new iPhone models are released, making older iPhone models less valuable.
In fact, in Apple's Product Environmental Report for iPhone 13, Apple assumes only a three or four-year period for power use by the first owner.
While iPhones' previous iOS versions still run, many apps will stop working after a while. This is one factor that greatly affects the value of your old iPhone.
Internal storage size
Your iPhone's internal storage affects its performance, which is why it also affects the price. In Android phones, RAM matters as much if not more. However, iOS works differently. It can run with less RAM and it can run faster because there is no downtime translating codes with its native operating system.
Apple's trade-in estimates for its trade-in program are pretty standard regardless of the storage size but there are reports that confirm that storage size does affect the final trade-in value of your iPhone.
Models with higher internal storage capacity will fetch more than models with lesser storage capacity.
Cosmetic value
An iPhone trade in value can be affected by its general appearance or cosmetic condition.
Scratches and dents will lower your device's trade-in value, so if you intend to sell your device, it's best to protect it from wear and tear by using a case, for example.
Genuine repair parts
Going to Apple repair centers for a phone repair can be more expensive but it's also a fantastic strategy to keep the trade-in value of your iPhone.
If Apple discovers that non-genuine parts were used in your iPhone, it will refuse to accept it for trade-in. Also, other stores may reduce the value to a lower one.
Obviously, if your iPhone has never been repaired, the trade-in value of your phone will not be affected.
Working condition
Apple may still accept broken or damaged iPhones for trade-in unless they've been tampered with by third-party repair shops.
Damage to an iPhone that is vital to its operation, such as a damaged screen or low battery life, may have a substantial impact on how much you can get in exchange.
If the damage is severe enough, you're likely to earn very little in return because its parts will only be recycled or reused in another device.
Demand for older models
The trade-in value of your iPhone may also be affected by the demand for that particular model.
iPhone users who occasionally get frustrated with key modifications in the latest iPhone models may seek older models of iPhones. If they do, then there will be a demand for older models and the value of your iPhone will likely increase.
Apple Trade-In Program
Apple publishes the trade-in value of old iPhones on their website. You can go to their website and exchange your old iPhone for a trade in credit or store gift card.
Check out what they might offer for your iPhone below.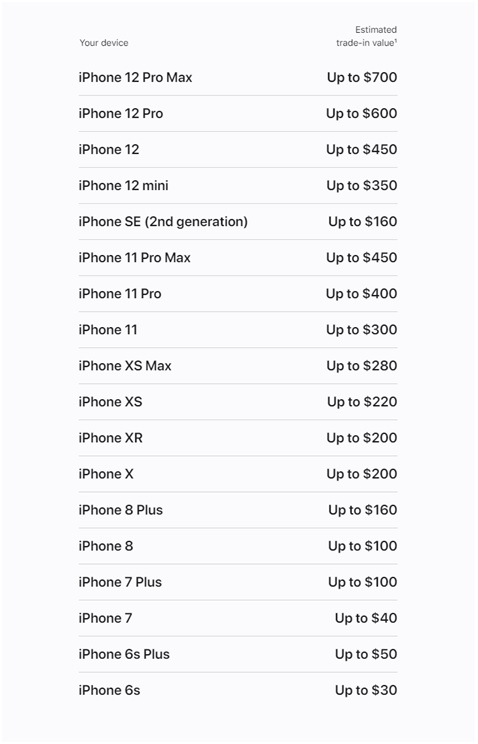 mac me an offer
If you'd rather have cash instead of store credit or a gift card, then head on over to mac me an offer. Mac me an offer pays cash in exchange for your iPhone, iPad, MacBook, iMac, and Apple Watch.
Your best option is almost always to trade-in your old iPhone to mac me an offer. You can rest assured that they pay higher and quicker than their competition. The payment method is also very simple. You can receive your payment in check, or Zelle after you ship your device to them.
Their Certified Technicians can also reset your iPhone to factory settings, effectively securing and protecting your data and other personal information from the next owner.
Trading in your iPhone at mac me an offer is pretty straightforward. Just use their Estimator Tool on their website, complete a form, and receive an instant offer.
If you're satisfied with their offer, you can send your device immediately and not worry about finding a buyer anymore. Get in contact with them and find out your iPhone trade in value today!