Posted by Mac Me an Offer Tech Team on Jan 11th 2023
Selling your old MacBook when you upgrade will help you afford the purchase. The more you can get in return for your old laptop, the better. You can maximize your return by preparing your MacBook to sell and choosing the right way to sell it.
In this guide, we'll teach you a little bit about how to prep your MacBook for sale, including a checklist of important points you want to cover in terms of protecting your data. We'll also discuss how to determine what your device is worth and the best way of going about trading it online with minimal hassle.
Prep Your MacBook for Sale
Before you even take the first step in the process of actually selling your MacBook, you want to first make sure that your device is ready to be sold. Not only will this increase your chances of receiving higher value for your device, but it will also go a long way in providing you with peace of mind about your data. Plus, preparing your old MacBook for sale can even make the transition to your new computer easier.
Back Up Your MacBook
Start your pre-sale preparation by backing up all of your important data. Performing a backup will ensure you have copies of all the pictures, videos, notes, contacts and other data you'll want to carry over to your new device.
Back up all of your files, not just the ones that seem most important right now. While you may not think you need a specific file or photo at the moment, it's always a smart move to save your data for a rainy day rather than just flat-out delete it.
You can back up your MacBook using the cloud or on an external device.
When you back up your MacBook to the cloud, you save your data to a secure server that you can access from any location on any device. The best cloud-based backup options are Apple's iCloud service and Google Drive. Google alone provides 15GB of free cloud storage, and iCloud gives you 5GB free.
As for an external device, your best choice is to use a hard drive with plenty of storage. Without spending too much money, you can find an external hard drive that's physically around the size of your cell phone. They can hold hundreds or even thousands of gigabytes.
Reset Your MacBook
Once you have backed up your files and data in your preferred location, it's time to wipe everything as a security measure. We live in a much more data-conscious age than in years past. It's simply best practice now to make sure that any device you are throwing away or selling has been completely wiped clean of all data. Your MacBook contains a lot of sensitive personal information that you'll want to keep from its new owner. Wiping the computer clean will ensure your data stays private.
Before moving onto the cleaning stage, it's also a good idea to log out of all accounts, especially your Apple-related accounts, and clear all of your cookies and browser files. Now you're all set and can move on to physically cleaning the device.
Follow these steps to reset your MacBook to its factory settings after signing out of all accounts:
Turn off your MacBook.
Hold the Command, Option and R keys.
Press the power button, continuing to hold the keys.
Let go of the keys when an image or a rotating globe appears with the message that reads "Starting internet recovery."
A language selection menu will appear, so choose your preferred language and click Next.
From the macOS Utilities window that appears, click Disk Utility.
Click Macintosh HD, then click Erase at the top of the window.
Select APFS in the window that appears, then click Erase.
Wait for the data to erase, then click Done to return to the utilities macOS Utilities menu.
Click Reinstall macOS, then click continue.
Click Agree to agree to the terms, then select the Macintosh HD drive and click Install.
Clean Your MacBook
When you intend to sell your device, think about the situation from the buyer's point of view. Not only the company that is buying your device, but the potential customer who will buy your device from them. You should be striving to clean and take care of your MacBook as much as possible anyway, but when you are preparing the device for sale, it's always a good idea to have your device looking its best.
You can use a microfiber cloth to wipe down the entire device, and a q-tip with a gentle cleaning solution to get in between the keys and in any other tiny nooks and crevices. You also want to make sure that any stickers or personal accessories that you have placed on your device have been removed. Try your best to get your device looking the way you would want to receive it out of the box.
Look for a Buyer
Once you are satisfied with the way your device looks and you are certain there is nothing remaining on the hard drive that you want, you can begin the process of actually selling it. There are a few important things to take note of before selling your device however that we want to highlight here.
Forget About Social Media
There are numerous ways to sell something online, including your Apple MacBook, but certain methods are easier than others. Some are not worth your time at all. Social media is a waste of your time if your intention is actually to make decent money and go through a streamlined process. Finding a reputable buyer willing to pay what you want will take longer than you're willing to wait.
Choose Mac Me an Offer Instead
Here at Mac Me an Offer, we have perfected the process of selling your MacBook online. There's never any need to try and haggle with a stranger or create complex product listings that you have to pester your friends to help you share around just to get any traction. Everything is handled easily and securely right on our website. As long as you know the model of your MacBook, it's simple to initiate the selling process without jumping through any hoops.
Ideally, when you sell your MacBook online, you want the process to be easy to understand and easy for you to go forward with. One of the biggest problems with trying to sell your device on social media sites or forums is that you may not even be sure how to initiate the process, and once you get an offer, you may not even understand how to properly close and make the trade.
Don't concern yourself with any of these hurdles when you can sell your device with ease here at Mac Me an Offer. Our online estimator tool gives you the ability to figure out how much your device is worth and initiate the trade-in process right there. There is no easier way to sell your Apple device anywhere else while receiving such high value in return, all with incredible customer service that can walk you through any problems or issues you may have along the way.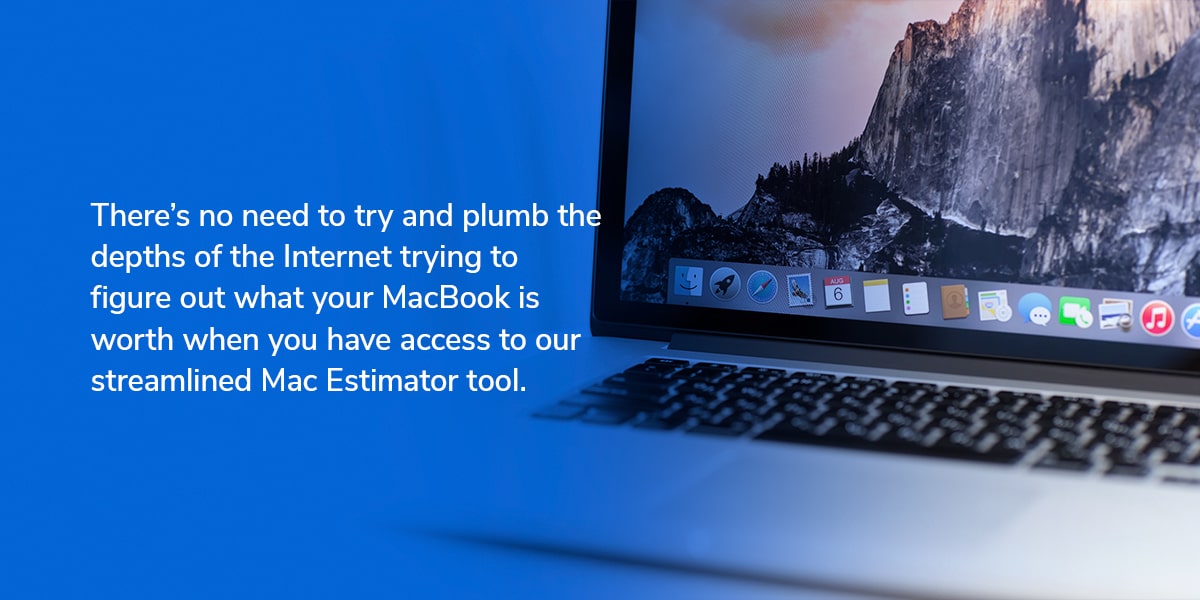 Know What Your Device Is Worth With Our Mac Estimator
There's no need to try and plumb the depths of the Internet trying to figure out what your MacBook is worth when you have access to our streamlined Mac Estimator tool. Knowing what your device is worth is of course one of the most important aspects of selling your device in general, but it is also a major roadblock for a lot of people. How do you figure out what to price your laptop when you post about it?
Our online tool will inform you as to what your device is worth without you having to do any work. All you have to do is make a few selections and the Mac Estimator will do all of the work for you. The program will provide you with an accurate price based on the parameters you submit. If you are unsure of the exact model or specifications of your MacBook, you can also get in touch with us and we would be more than happy to help you figure it out so you can proceed with the selling process.
Selling Your MacBook With Mac Me an Offer
Once the Mac Estimator presents you with a price for your laptop, initiating the actual selling process is simple. If you accept the price, we will send you a formal offer based on the price given by the Mac Estimator, as well as instructions on how to proceed. We will even email you a purchase order and return label to cover the shipping right to your inbox. There are no complicated steps or hard to understand processes, as we have worked hard to make our online tool accessible for anyone.
Knowing what your device is worth is the key to going forward with your trade-in. You might be surprised at what your MacBook is actually worth, as many people who attempt to sell their device online typically undervalue their computers because it's so hard to make a sale yourself without the proper process in place. Instead of spending hours online trying to figure out how to price your MacBook, let us handle it. All you have to do is check out our Mac Estimator, follow the easy steps outlined on the page, and go from there. It's actually that easy.
Why Choose Mac Me an Offer?
There are dozens of ways to sell a computer online, but if you want a method that's simple, intuitive, and guaranteed, there's no better option than our process here at Mac Me an Offer. Even the best-case scenarios on various forums and social groups don't measure up compared to how effortless it is to use our Mac Estimator. Not only this, but you would be hard-pressed to get a better deal anywhere else. We offer competitive rates for Apple devices, regardless of the age of the device.
Whether you have been looking into purchasing a brand new Mac and simply want to make some money off of your old one, or you are cleaning out some clutter in your life and just want to unload your old MacBook, we'll help you do it. At Mac Me an Offer, we understand the importance of quality service and helping customers get what they need, and fast. With our Mac Estimator tool, you can have a general idea of what your device is worth in no time, and initiate the selling process right then and there. Within 3 days after we receive your device, test it, and then send you secure payment, even through Zelle if that's what you prefer.
What could possibly be easier? If you're serious about selling your MacBook, there's absolutely no reason to endure untrusted systems or deal with haggling on some social media group just for a chance at an arduous and complex selling process. Here at Mac Me an Offer, we have paved the road for Apple users who want a secure, easy way to sell their devices. No issues, no hassle. And at any time if you have questions about what devices we accept, the Mac Estimator tool, or our process in general, you can give us a call. Your satisfaction is our top priority, and it shows in everything we do here.
Get Started With Mac Me an Offer
For the best way to sell your MacBook online, there's no easier or more reliable method than ours. Give us a call at 800-581-8987 and we can help you sell your device at a great price, all without any hassle.