Posted by Mac Me an Offer Tech Team on Jan 11th 2023
Today, there are many ways to get your money back from your iPhone. Trade-ins are incredibly in demand and most Apple enthusiasts take advantage of them. But why did they become so common? Continue reading to discover why trading in your iPhone through a buyback program has grown so popular.
What Is an iPhone Buyback Program?
If you haven't heard, a trade-in is a way to sell your used iPhone to a reputable certified Apple refurbishing company. These companies are usually able to offer significantly better prices for your used equipment. Most people trade to a company offering a buyback program because it's easier and safer than selling their phones online and they can get more money back.
But what makes the iPhone buybacks so popular? Why do more and more people keep trading in their phones for new ones every year?
What Makes Buyback Programs So Popular?
The iPhone is one of Apple's most important and widely used products and it has become an icon within the tech community. As such, people want to own iPhones and stay current with Apple technology. But as we all know, iPhones aren't exactly cheap or easy to come by. This makes the used market a valuable resource to people who want to purchase iPhones and those who want to sell them.
Making the Best Products More Accessible
Apple products are extremely durable and hold their value very well. However, nothing beats the feeling of having the latest iPhone and trying out the newest features. They offer a lot more than zippier performance and magnitudes of more storage. The whole experience changes with each generation and even ergonomics improvements have a definite impact on how we experience Apple products.
However, shelling out a thousand dollars a year just to have access to the shiniest gadget isn't feasible for everyone. In 2013, this fact started to make a dent in Apple's finances when they recorded their first profit decline in a decade.
The market seemed to have reached a cap, and people became less willing to part ways with their precious iPhones and MacBooks. This prompted the company, and the whole Apple ecosystem, to focus more on computer and iPhone buyback programs, giving users the opportunity to recoup a good chunk of their investment and put it towards buying their next Apple product.
An iPhone buyback is basically a discount you give yourself. If you change your equipment frequently, say every year or so, that discount will add up over time, allowing you to save thousands of dollars on new Apple equipment.
Why Not Just Sell iPhones Online?
Sure, you can sell your iPhone directly to a buyer online. But that process is more complicated than you think. Here are some of the reasons you should stray away from independent online iPhone sales.
Convenience
You may find that selling your phone is more work than you imagined. When you sell your iPhone yourself, it's up to you to list it on various sites and attract buyers. Then, when you make a sale, you'll have to package the phone and mail it to the new buyer yourself.
Plus, it often takes weeks or months to find a buyer willing to pay the amount you want. Apple trade-in companies are always looking for opportunities to buy more iPhones to refurbish them and reinsert them into the market as soon as possible.
Value
In general, when you sell your iPhone online, you can expect to get about 20% of what you originally paid for it. That might seem fair for the regular Android user. However, Apple products are made of high-end durable materials that have an incredible ability to hold their value no matter how old they get. Even iPhones with visible damage can offer very decent returns if you go to the right place.
A private buyer may be reluctant to purchase your used iPhone at your desired price. But, when you go through a buyback program, you can expect to receive at least twice as much money compared to the 20% of its value you'd receive selling online.
What Happens After You Trade in Your iPhone?
What exactly is the buyback process and why does it offer such great value? To help you understand how buybacks work, explore the process we use at Mac Me an Offer.
After you send your device to us, it goes to our inspection and repair department. The inspection and repair department staff examines the device. Then, they determine its value based on its condition. If your phone is in nearly new condition with little wear, you can expect to recoup a big chunk of your investment and partially subsidize your next purchase. Even when there are some cosmetic issues with the phone, you'll most likely get about half of what it is worth.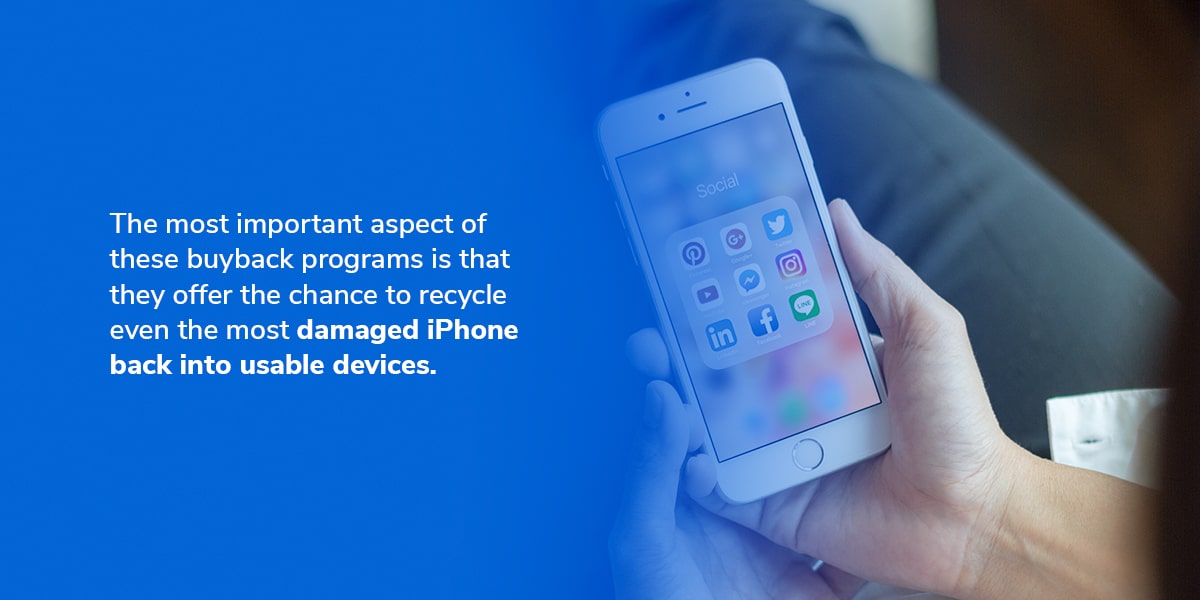 What Happens to the Old iPhone?
Once your phone has been examined, repaired, or recycled, it's put back on the market for resale. The resale happens through portals specialized in selling refurbished Apple products that specialize in providing quality products that comply with Apple´s goal of reducing their carbon footprint impact by extending the life of their hardware and reducing the amount of components that end up in landfills.
Perhaps, the most important aspect of these buyback programs is that they offer the chance to recycle even the most damaged iPhone back into usable devices.
Protecting your iPhone to Maximize Your Return
You'll receive the greatest return for your old iPhone if you keep it in good condition. Before selling your iPhone, make sure it is completely functional. If anything's wrong with it, this will affect its value and you'll end up receiving a lower price for it. Take some steps to preserve your iPhone's interior hardware, screen and exterior shell so that it will be worth the most when you want to sell it. Some simple preventative measures that can maximize your buyback rate include:
Using a durable case
Covering the screen with a screen protector
Activating the auto-brightness feature
Clearing cache and RAM occasionally
Activating low-power mode
With these steps, you can ensure that even the most damaged iPhone will be put back in working condition which is incredibly beneficial for everyone involved. Not only does it help you get more money for your device but it's also better for the environment because it keeps hazardous waste out of landfills and waterways by recycling the parts.
Preparing Your iPhone for Buyback
When you sell your iPhone to a buyback program, there are steps you can take to simplify the transition. Let's look at some ways to make sure you and your old phone's new owner can start using your new devices right away.
Back Up Your Data
First, make sure to back up all of your personal data and files before handing the device over to an iPhone buyback or trade-in program. This way if anything happens to it, at least you won't lose any important information. For more information on how to back up your phone, check out our guide to selling your iPhone Online.
Pay Off All Phone Bills
If you're selling your phone to a company like Mac Me an Offer, you'll want to make sure there aren't any outstanding fees on the International Mobile Equipment Identity (IMEI) number so they can activate it correctly. To find this information, simply check through the settings of your iPhone under general>about.
Sign Out of All Accounts
You don't want your iPhone's new owner to have access to your banking, shopping and social media accounts, so remember to log out before trading in your phone. It's also crucial to log out of your Apple ID so that the new owner can access the phone without your username and password.
Erase Your Sensitive Data
Finally, don't forget to erase all of your data before submission. This is a simple process that can be done by going into your phone settings, then General, Reset and selecting "Erase all content and settings" Within just a few moments, all of your information will be erased which means you won't have to worry about any private data making its way into unwanted hands.
Learn More About Buybacks With Mac Me an Offer
Ready to see how much you can earn for your old iPhone? We encourage you to contact us online to discuss the iPhone you have and ask about our buyback process.
As always, thanks for reading and be sure to check back soon for more great tips and tricks like this one. Also, if there's anything you'd like to see on our blog or website, be sure to let us know.